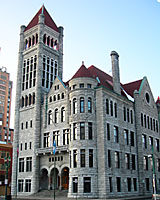 Depending upon your perspective, the multiple layers of local government within most counties in New York State (i.e., county, city, town, village, etc.) are either a blessing, or a burden. In Onondaga County, for example, you have the County of Onondaga, the City of Syracuse, nineteen towns, fifteen villages, various fire districts, water districts, school districts, etc.)
I suppose having so many overlapping local governments brings residents closer to local elected officials and government service providers? However, there are some pretty substantial inefficiencies in this type of organization, too!
As just one example, I can't seem to find an "official" website that provides links to the websites of all the towns and villages within Onondaga County.
So, to learn more about the governmental organizations and jurisdictions in Central New York, you'll find links to the City of Syracuse and the "official" websites of the county governments that surround it, at right.
I've also provided links to Wikipedia entries for each of the counties, which are actually pretty interesting. It's within the Wikipedia entries that you'll find links to the websites of the cities, towns and villages throughout Central New York.
And, if you want to learn even more about how various components of local government function here in Central New York, I've provided a link to the Community Benchmarks Program at the Maxwell School of Citizenship at Syracuse University.
You will leave the Terry L. Ettinger Horticulture Consulting Services website by clicking on any of the links at right. Terry L. Ettinger Horticulture Consulting Services takes no direct or implied responsibility for the information, recommendations or opinions found at any other website.
If the link above doesn't work, click the "back" button on your browser to return to this page. Then, if you would, click here to let me know that the link leads to a page that's no longer valid.
Meanwhile, if there are resources you think should be added to the list at right, let me know!