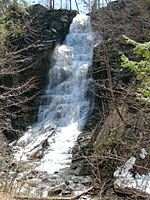 I grew up in a small town in northwestern Illinois where you really had to use your imagination when it came to outdoor recreation.
There weren't any hills - let alone mountains. There were no lakes - unless you counted scattered abandoned gravel pits - and the land was so so flat that the rivers and streams were slow-moving and muddy. And there were no "real" forests that went on for miles - plenty of cornfields, mind you - but no forests!
That's far from the case in Central New York!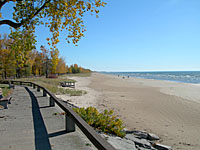 To begin, for a county of less than 500,000 people, the Onondaga County park system is incredibly large - and diverse. From the shores of one of New York State's largest inland lakes (that being Oneida Lake), to a world-class zoo, and south to miles of forest where you can enjoy a 137 foot high waterfall at Pratt's Falls, above right, and hike, cross-country ski and snow shoe for hours without seeing another person at Highland Forest!
And that's just the county parks system. I can't begin to describe all the parks within the City of Syracuse and the surrounding towns and villages.
Oh, and I almost forgot the numerous State Parks within a twenty minute drive of downtown Syracuse - such as stunning Green Lakes State Park that features centuries-old trees towering to heights of well over 100 feet, a classic Robert Trent Jones-designed golf course and two, emerald-green meromictic lakes!
Did I mention that two of the world-famous Finger Lakes (Owasco and Skaneateles) are located in Onondaga County (by the way, the water in the seventeen mile-long Skaneateles Lake is clean enough to drink straight from the tap - which I did for the first year that I lived in Central New York)!
Shoot, I forgot to mention that you can often downhill ski through early April and walk miles of sandy Lake Ontario shores all summer long well within a one hour drive of downtown Syracuse, above left.
And, what about the 100+ golf courses, and 150 foot-tall waterfalls, and the trout and salmon streams, and the Adirondack Mountains, and . . . . . . . .
Well, I hope you're starting to get the picture? The bottom line is that you can hardly step outside your door in Central New York without tripping over some sort of outdoor activity that you and your family can enjoy 365 days a year!
You will leave the Terry L. Ettinger Horticulture Consulting Services website by clicking on any of the links at right. Terry L. Ettinger Horticulture Consulting Services takes no direct or implied responsibility for the information, recommendations or opinions found at any other website.
If the link above doesn't work, click the "back" button on your browser to return to this page. Then, if you would, click here to let me know that the link leads to a page that's no longer valid.
Meanwhile, if there are resources you think should be added to the list at right, let me know!