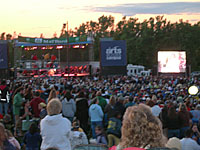 At a minimum, with all of the colleges, universities and local theatrical troupes, there's almost always one kind of performance or another being performed, and number of which can be found by clicking on the Cultural and Entertainment Resources link at left.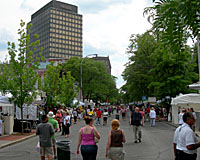 Meanwhile, there are a huge number of annual events throughout the year that draw thousands, if not hundreds of thousands of people from through the state and beyond. For example, the Queen of Soul, Aretha Franklin sings for 40,000 people at the 2007 Syracuse Jazz Fest in the picture at the top of the page!
For just a small sampling of these great events, click on the links at right.
You will leave the Terry L. Ettinger Horticulture Consulting Services website by clicking on any of the links at right. Terry L. Ettinger Horticulture Consulting Services takes no direct or implied responsibility for the information, recommendations or opinions found at any other website.
If the link above doesn't work, click the "back" button on your browser to return to this page. Then, if you would, click here to let me know that the link leads to a page that's no longer valid.
Meanwhile, if there are resources you think should be added to the list at right, let me know!)