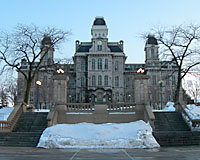 I come from a family of teachers. And, considering that I devote a fair amount of my time to the development and delivery of horticulture-related educational projects - including this website (at least I hope that you find it to be of educational value), I believe that life-long education is very important.
That being said, I also believe that outstanding educational institutions and opportunities are woven into the fabric of Central New York.
Not to ignore the more than fifty outstanding public school districts, parochial schools and private schools in Central New York, a region is often defined by its primary urban district.
Therefore, cutting right to the chase, the Syracuse City School District struggles with common urban school district issues - starting with a community in which half of the high-value commercial property (government buildings, hospitals, museums, educational institutions, etc.) is exempt from taxes. Add to the mix suburban flight, a high percentage of at-risk students and hundreds of millions of dollars of deferred maintenance on buildings that are often far older than their intended useful life, it's no small accomplishment that any of the district's 20,000+ students are successful.
Yet, despite common perceptions and the need for substantial improvement in many areas, thousands upon thousands of students are successful year after year, thanks to dedicated and talented teachers, staff, administrators and school board members. But, most importantly, they're successful because of the value that their parents place on education - just like parents of children in any other school district.
Meanwhile, completing a high school education need not be the end of one's education here in Central New York.
While great emphasis is placed on the importance of a college education, the reality is that college isn't for everyone. And, in fact, our society would come to a grinding halt without the skills and expertise of those with a vocational training background.
We're fortunate to have a number of excellent vocational and apprentice training programs in Central New York that offer residents a path to careers that are critical to our economy.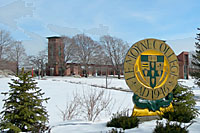 We can literally step out our door and within twenty minutes walk - not drive - to four college/university campuses and a school of nursing where more than 25,000 full and part-time students from all fifty states and nearly 100 countries pursue bachelors, masters and doctoral degrees in over 100 fields, including law, medicine and emerging fields such as bioprocess engineering.
Expanding beyond walking distance to almost exactly sixty miles in any direction from Syracuse you'll find four community colleges, a second school of nursing, four bachelors and/or masters degree-granting State University of New York campuses, and seven private colleges/universities. Combined, these higher education institutions enroll an additional 65,000+ full and part-time students.
Considering the number of educational institutions referenced above and linked to at right, it should come as no surprise that Central New York is also rich in formal and informal adult and continuing education resources and opportunities.
Whether you want to learn how to dance before your daughter's wedding, explore new career options, or own a company and need to train your employees in new information systems or manufacturing processes, chances are that you can find exactly what you're looking for practically right outside your door!
You will leave the Terry L. Ettinger Horticulture Consulting Services website by clicking on any of the links at right. Terry L. Ettinger Horticulture Consulting Services takes no direct or implied responsibility for the information, recommendations or opinions found at any other website.
If the link above doesn't work, click the "back" button on your browser to return to this page. Then, if you would, click here to let me know that the link leads to a page that's no longer valid.
Meanwhile, if there are resources you think should be added to the list at right, let me know!)