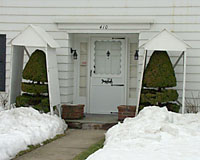 Q. A number of shrubs around the older home we purchased this past March were covered by wooden ďA-framesĒ that the previous owner had built and set in place. We took the frames down in April and stored them in the garage. We havenít had time to put them up this fall and arenít looking forward to the prospect of putting them up in cold weather. Is it really necessary to protect shrubs, or can we skip this ritual?
A. When I moved to Central New York in March of 1987, I had no clue as to why so many foundation plantings featured these wooden ďA-frames?Ē Of course, Iíd never experienced ďlake effectĒ snow, either!
The short answer to your question is no, you generally should not need to cover or otherwise protect shrubs (other than roses) from the perils of our Central New York winters Ė assuming, that is, that youíve plant the right plants in the right place. If, however, as in youíre case youíve inherited existing plantings that may not have been well thought out, some protection may be necessary?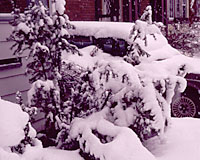 The most common example I can think of are foundation plantings located directly beneath the eaves of homes, as in the picture at left. Theyíre often at ground zero for snow and ice sliding off a roof.
Meanwhile you can use the winter months to make plans for moving these plants away from the foundation next spring and/or replace them with plants that are more tolerant of falling snow and ice. Plants that may work well in this type of setting include summer-flowering shrubs like potentilla, shrub roses, spiraea, etc., and many different kinds of perennials and ornamental grasses.
Another common situation involves protecting sensitive plants from salt-laden spray kicked up by passing cars.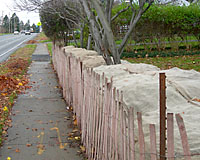 Protecting plants from this type of injury often involves wrapping them in burlap. Unfortunately, this can make the situation worse when burlap thatís secured tightly against sensitive plants is saturated with salt water repeatedly, thus increasing the salt concentration on the foliage, over the course of the winter. In this situation itís best to erect a burlap screen six to twelve inches from the foliage of salt-susceptible species.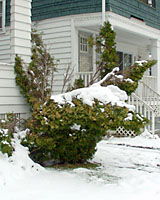 Finally, should a heavy snow begin pulling apart shrubs in your landscape let me offer a couple of recommendations.
First, gently brush snow off every hour or two during a heavy snow event, donít wait until the snow has stopped. Donít try to knock ice off of branches, however, as youíll likely end up breaking the branches. You may be better off temporarily holding affected plants together with bungee cords?
And, once the snow/ice event has ended, itís generally best to let nature take its course. This is especially true if temperatures have dropped well into the teens or lower. Attempting to brush snow from shrubs when itís bitter cold will often result in many broken branches as compared to letting the snow melt naturally.