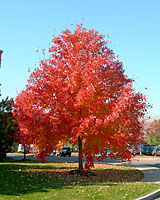 Trees and shrubs, and to a lesser extent, vines, are the "bones" of most landscapes.
Trees "tie" our homes to the ground, provide shade, and can screen unwanted views into and off of our property.
Shrubs to soften the starkness of our home's foundations, direct foot traffic from one space to another, provide privacy, and add seasonal color and interest in the form of flowers, fruit and fall foliage.
And vines are most often relied upon to provide colorful flowers as they cling to, and cascade from mailboxes, trellises and fences.
The questions I receive most often about all of these plants relate to their mature size, whether they need sun or shade, if they can grow in wet soils, and when and how they should be pruned.
You'll find the answers to many of these questions by clicking on the links at right!