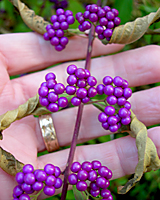 Q. Now that winter has arrived, we're already making plans for next year's landscape projects. One of our goals is to make our landscape more interesting throughout the winter with plants that have colorful fruit. Do you have any suggestions for plants that fit this description?
A. Of course I do! In fact, I like to think that plants with winter interest are a key feature of landscape designs that I create for my clients.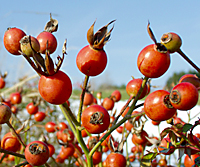 For example, 'Bonica' rose is an outstanding low-maintenance shrub for sunny, well-drained spots in Central New York landscapes. It produces clusters of soft-pink flowers almost non-stop from June to October, followed by reddish-orange clusters of marble-sized fruit, at left, that persist into at least early January. Unlike many hybrid roses, this shrub rose requires no special care to get through our harsh winters and can be cut back to within four to six inches of the ground in early spring.
Also in the rose family is our North American native red and black chokeberry (Aronia arbutifolia and A. meloncarpa). Ranging from four to ten feet in height depending upon growing conditions, these shrubs produce many clusters of pure white flowers in early May that precede drooping clusters of deep purple or shiny red fruit, at right, from October through late January. As a bonus, the brilliant red fall foliage of both species rivals that of the wildly popular and increasingly invasive burning bush.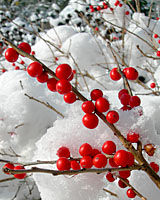 Meanwhile, winterberry (Ilex verticillata), a deciduous holly native to swampy woods throughout much of Central New York, at left, can also brighten our late fall through early winter landscapes. While most of the cultivated varieties of winterberry are quite large and leggy, the four to six foot-tall 'Red Sprite,' can fit nicely into many plantings, even those where standing water is a problem!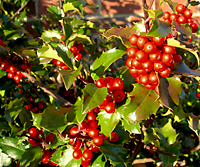 Meanwhile, female blue holly (Ilex x. meserveae) cultivars including 'Blue Princess,' `China Girl,' `Blue Maid,' etc., produce large numbers of bright red fruit each winter, too!
Just remember that all hollies are dioecious (that is, they bear male and female flowers on different plants) and therefore require at least one male plant near or among a group of female plants to insure pollination of female flowers and subsequent fruit set. For example, 'Blue Prince' is a good pollinator for `Blue Princess,' and 'Jim Dandy' is a good pollinator for the deciduous 'Red Sprite.'
And finally, possibly the most uniquely colored fruit of any shrub found in Central New York landscapes are those of beautyberry (Callicarpa dichotoma). The eye-catching appeal of this plant's clusters of shiny purple fruit that persist through much of the winter, photo at top of page, is unmatched by any other plant!
For more inspiration, make a trip to the Mullestein Winter Garden at the Cornell Plantations in Ithaca!