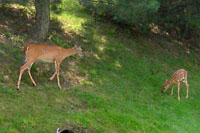 I didn't see my first "wild" white-tailed deer until I was in college - even though I spent a lot of time on my grandparent's farm in northern Illinois, and would occasionally see hoof-prints and antler-rub damage in their Christmas tree plantation. Thirty years later, I can see them every day within ten blocks of our home if I wanted to. Heck, a couple of years ago, I even saw one just a couple of doors down from our home in a densely populated residential neighborhood!
I guess this all makes sense as wildlife management experts estimate that there may have been no more than 500,000 white-tailed deer in the entire United States around 1900. Now, it's estimated that there are more than 20 million of these critters roaming the country. They really are everywhere!
In the late 1990's, deer populations of between 14 and 34 animals per square mile were reported in the Town of Irondequoit, located between the city of Rochester and the south shore of Lake Ontario are common. And, just north of Ithaca in the village of Cayuga Heights, Cornell University biologists estimated there were between 100 and 200 deer within the 1.8 square mile community. In fact, deer populations at the time were so dense that ten of fifty deer tagged by biologists in an attempt to learn more about the herd were killed in car accidents in less than a year!
Ironically, one of the principle factors leading to the dramatic recovery of deer populations across the country is suburban development.
Farmland purchased by speculators often reverts to woodland over the course of several decades before market conditions warrant development. Not only do these undeveloped areas provide ideal habitat for deer, their proximity to suburban developments usually precludes hunting. Also, environment-friendly zoning laws that favor larger lot sizes, prevents development along waterways, and requires developers to include "forever green" spaces in their subdivisions insures that a significant portion of this habitat remains relatively undisturbed.
This means is that if you live at the edge of undeveloped areas anywhere in Central New York, or are considering building a home within a wooded development you're almost guaranteed to have deer as neighbors. And, since the average deer eats about 2,000 pounds of grass, leaves, tender buds, fruit and flowers a year, guess who'll be coming to dinner - a lot!
So, if you want to spend your time and money growing a beautiful landscape or bountiful vegetable garden instead of deer food, click on the links at right to learn more about your options.