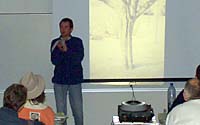 Over the past fifteen years I have developed, delivered and evaluated dozens of in-depth training programs for employees and managers of garden centers, lawn and landscape management companies and greenhouses, as well as grounds maintenance staffs at corporate, educational and governmental campuses.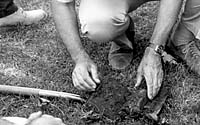 Training sessions, which typically run from a half-day (four hours) to two days in length most often include both classroom instruction and hands-on instruction and practice outdoors. I can also work with you to qualify training sessions for recertification credits/I.C.U.'s offered by a variety of professional organizations and/or licensing agencies (e.g., pesticide applicator recertification credits).
Please give me a call or drop me an e-mail to discuss how your staff may benefit from one or more of the training modules described below.
Introduction to Lawn and Landscape Soils
Soils in landscape settings are often extremely compacted and highly variable both physically and chemically across a site. Instruction on how to analyze soil conditions and match plant materials to these conditions is emphasized.
Planting Techniques
How hard can digging a hole be? In fact, it's amazing how frequently poor planting techniques can be traced back to "professional" planting crews! This presentation focuses on the evaluation of planting stock before it goes into the ground and techniques for insuring the plants become established as quickly as possible in their permanent location.
Turf Management
The first part of this session focuses on the growth and development of individual grass plants (do you know what a single grass plant looks like). The remainder of the session addresses how various management practices (mowing, fertilization, aeration, pest management, watering, etc.) effect the growth of grass plants in a turf.
Pest Management
This session is based on the "key plant/key pest" concept that suggests that more than 80 percent of all pest problems in landscape and turf settings occur on fewer than 20 percent of the total plant materials. Therefore, we spend the first part of the session developing a list of plant materials that staff most frequently manage, then spend the remainder of the session discussing the pest complexes associated with those plants. Woven throughout the session is a caution that many symptoms observed in landscape settings are not caused by insects or disease, but rather a variety of "abiotic" factors such as soil conditions, poor planting techniques, etc.
Pruning Practices
Proper pruning involves way more than firing up the hedge shears and turning every plant in sight into nondescript squares, spheres and upside down cones - or at least it should? This session first looks at how plants respond to various pruning practices, then we go outside to hone our pruning skills.
Plant Materials
As I've mentioned elsewhere on this site, one thing I know is plants. Whether we're talking trees, shrubs, perennials, ornamental grasses, etc., I can work with you to develop a presentation that will introduce your staff to the plants they'll most often be interacting with while on the job.
Horticulture Information Resources
One of the most valuable lessons that I learned in college is that it often isn't most important what you know, but rather how to find the information you need to know! While I provide a list of references with each of the instructional modules above, this session features a broad discussion and examples of written materials and reliable Internet-based resources for finding critical information quickly that will help your staff work more efficiently.