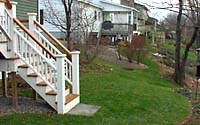 After rebuilding their old deck, my clients wanted to step down onto something other than wet grass! In addition, the hidden from view by the stairs in the photo at right, French doors open onto this space from the basement, too.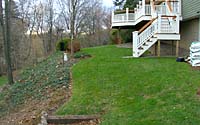 Looking toward the deck from the opposite direction, a set of rotting railroad tie steps can be seen in the lower left hand corner of the photo at right. While the clients had not originally considered replacing the stairs prior to our initial consultation, they quickly realized that it made sense to incorporate new stairs into the patio project.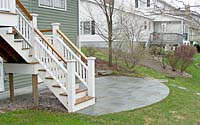 Considering the elegant workmanship of the deck builder, it was decided that the patio would be constructed of Pennsylvania bluestone laid out in a random pattern. Though generally the most expensive paving material on a square foot basis here in Central New York, the clients were very comfortable with their decision after reviewing other paving options. The end result, in the photo at right, certainly illustrates that their choice of bluestone continues the sense of elegance and high quality workmanship from their deck right onto the ground plane of their backyard.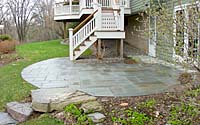 Attention to detail in this project included a curved edge to the patio (see the photo at right). The intent of the curve is to "soften" the hard lines of the bluestone pavers while simultaneously creating a bit of contrast between the curved edge and the rigid geometry of the bluestone slabs.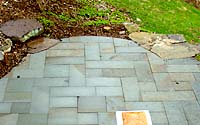 Finally, as a statement of the extreme skill of the contractor on this project, note how the natural stone slab steps (which replaced the rotting railroad ties) are cut right into the bluestone patio (see the photo at right). The intent here was to again create a sense of contrast between the hard lines of the bluestone and the irregular shape of the stone slabs, while also creating a subtle sense of transition from the formality of the deck and patio toward the very natural lower portion of this property at the base of the stone slab steps.