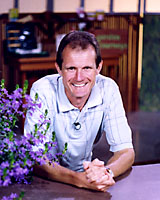 While I'm far from the most recognizable personality, I have had the opportunity to do a fair number of radio and television commercials through the years.
And, while I may lack wide recognition, I make up for it with my comfort in front of a microphone and camera lens - and enthusiasm for products, services and organizations in which I believe.
All of this leads to production efficiencies that help your advertising dollars work harder and go further.
If you'd like to discuss my services, give me a call or drop me an e-mail at your convenience.
In the meantime, watch the most recent episodes of "Garden Journeys" right on your computer by clicking here!