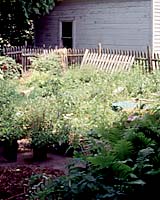 Since moving to Central New York in 1987, my private landscape experience has been one of renovation.
Both of our homes have been situated on very small lots (both less than 6,000 square feet) within ten to fifteen blocks of downtown Syracuse. Both were quite shaded by closely spaced homes and numerous volunteer Norway maple and boxelder trees. And, both landscapes (if you could call them that) had been a bit neglected (top two photos at right).
For the past dozen years at our Syracuse University neighborhood home,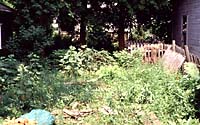 patience has certainly been a virtue. As our time and budget have allowed, we've replaced the lawn with mostly herbaceous perennials, bulbs and ornamental grasses (along with a few shrubs - though no evergreens). These are plants are tolerant of the dry shade created by nearby trees and compliment each other to offer year-round interest.
We've also developed a comfortable outdoor living space by:
Creating ground-level privacy with a lattice-topped fence across the back and one side of the space that supports a blizzard of tiny white flowers of sweet autumn clematis each September,
Installing a herringbone-patterned concrete paver patio at the base of a rebuilt set of stairs leading outdoors from our kitchen, and extending the pavers into the driveway to create a larger space for entertaining neighbors, friends and family,
Installing dimmer-controlled outdoor lighting that "washes" the patio surface with soft light after dark. Meanwhile, an "up" light at the base of a weeping Japanese maple tree creates interesting patterns of shadow and light through its lace-like leaves during the summer and snow-covered branches throughout the winter.
And most importantly, installing a pond, waterfall and bog. In addition to the visual interest that this water feature provides, the gentle sound of water spilling over the stones in the waterfall is extraordinarily soothing at any time of day or night!
While we've reached a point where we're generally pleased with the space we've created, there's always room not necessarily for improvement - but at least for change. For example, every year we experiment with new combinations of annuals and tender perennials in large containers that we set on the patio and along the driveway. And, I'd sort of like to figure out a way to add a tree peony or two - and possibly a marginally hardy, fall-blooming camellia!
So, stay tuned!