December Weather
Average High Temperature: 36.3°F
Record High Temperature: 72°F (the 6th, 2001)
Average Low Temperature: 20.9°F
Record Low Temperature: -22°F (the 25th, 1980)
Average Precipitation: 3.12" inches
Maximum Precipitation: 5.5" (1983)
Minimum Precipitation: 1.4" (1999)
Average Snowfall: 26.1"
Record Snowfall: 70.3" (2000)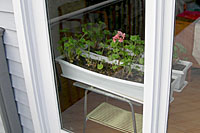 There's no denying it any longer - winter has finally arrived this month. While I can recall an entire week of nice days in early December of 2001, I can also remember December of 2000 when it seemed like it would never stop snowing!
Even if it isn't snowing, the cold air flowing over the relatively warm water of Lake Ontario through much of the month results in a lot of thick clouds.
This cloud cover combined with the shortest days of the year (just under nine hours between sunrise and sunset on December 21st), makes it a real struggle for houseplants that prefer twelve hours of intense sunlight every day because of their mostly tropical origin.
To help them make it through to spring, try to keep them in a room that's as bright as possible, but where temperatures after dark can be dropped to the low 50's (similar to evening temperatures in Florida during the winter months). Also, let your plants dry out a bit (absolutely bone dry in the case of true cactus), and don't fertilize at all until mid- to late March.
Maybe the best news is that by the end of the month, it's certainly possible for something to be blooming outdoors in your garden!