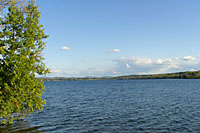 People can survive for long periods of time without a lot of things — but a plentiful source of clean water isn't one of them! Fortunately, clean water is one thing we have plenty of here in Central New York and, in fact, throughout upstate New York.
The "Green" industry is often portrayed as spewers of vast quantities of fertilizers and pesticides that ultimately despoil our surface waters and aquifers. While that claim is far from accurate, it doesn't mean we can't be even better stewards while positioning our businesses as being a good choice for improving the environment surrounding our client's homes and businesses!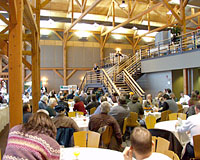 Toward that end, make plans to join members of the Central New York State Nursery & Landscape Association at "The Lodge," the stunning Welch Allyn training center in Skaneateles, New York, at left, on Wednesday, January 30th, 2008.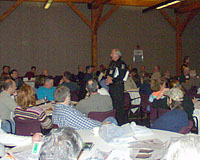 Already confirmed are an extraordinary group of regionally, nationally and internationally renown experts on the water quality issues and opportunities faced by our industry.
To learn more about our speakers and their work, simply click on their names. (Just remember, to click your browser's "back" button to return to this page.) And, click here to download a registration form and learn more about the Central New York State Nursery & Landscape Association.
Assistant Professor and Extension Specialist in the Department of Biological and Agricultural Engineering at North Carolina State University
Since 2000, Dr. Hunt, has assisted with the design, installation, and/or monitoring of over 70 stormwater best management practices (BMPs), including bioretention, stormwater wetlands, innovative wet ponds, green roofs, permeable pavement, water harvesting/cistern systems and level spreaders. He teaches 20-25 short courses and workshops each year on stormwater BMP design and function throughout the United States. His presentations will include:
"Positioning The Green Industry as a Leader in Water Quality Issues"
"Where the Rubber Hits the Road - Water Quality Practices and Technologies to Implement NOW!"
Professor, Department of Horticulture, Cornell University
Nothing impacts the plants we install and manage more than the soil and climate in which they grow. Author of "Tales from the Underground," Dr. Wolfe's work is on the leading edge of new ways of evaluating and measuring soil health, and the impact climate change will have on the plants in all types of managed landscapes and turf. Just one of many insights he will share involves improving the efficiency of nitrogen fertilizer use to reduce greenhouse gas emissions associated with managed turf. Dr. Wolfe's presentations will include:
"Frontiers in Soil Science—Dishing the Dirt to Your Clients"
"Climate Change and Impact on the Landscape and Turf Industries"
Regional IPM Educator, New York State Integrated Pest Management Program
As a Cornell Cooperative Extension Educator from 1995—2006, Mr. Eshenaur was integrally involved with a wide range of landscape and turf-related research and education programs, not the least of which was some of the early research relating to the Viburnum Leaf Beetle. For the past year and a half, he's taken on the role of Regional IPM Educator for Western New York, conducting work relating to the evaluation of alternative herbicides for ornamental weed control and the promotion of weed suppressive groundcover research results. His presentations will include:
"Reducing Weed Growth With Ornamental Groundcovers"
"Selecting Pest Resistant Plants for Nursery Production, Retail and Landscape Use"
Environmental Team Coordinator, Cornell Cooperative Extension—Onondaga County
Ms. Samuels has been instrumental in developing, implementing and evaluating a wide range of local landscape-related, water quality demonstration and education programs since 1997. Just a few of these programs include streamside erosion control, rain garden installations, and managing invasive aquatic plants. She will explain how these initiatives can be expanded to your client's landscapes and gardens in her presentation:
"Local Landscape-Related Water Quality Initiatives"
Associate Professor, SUNY College of Environmental Science & Forestry, Department of Environmental Studies
Dr. Nordenstam researches how perceptions of risk shapes the attitudes, behaviors, public policies and communication relating to real or imagined environmental and public health hazards. One of her areas of study involves "right-to-know" information policy and behavioral decision-making theory—which relates directly our industry's ongoing issues associated with adoption of Neighborhood Notification across the state. Dr. Nordenstam's presentation will help us understand the underlying concerns and motivations of policy-makers and the public in her presentation:
"The Perception of Risk - Why Green Industry Members are Environmental Bad Guys (and Ladies, Too?)"
Assistant Professor, Rutgers University, Department of Ecology, Evolution and Natural Resources at Cook College
Many of us have "we remember Jason when" stories because he started his horticultural career right here in Central New York! We've watched with pride and admiration as his cutting edge academic career has blossomed (pardon the pun), from his ground-breaking (again, pardon the pun) graduate degree studies at Cornell with Dr. Nina Bassuk on "structural soils," to his most recent work as Endowed Faculty Scholar in Urban Forestry at Rutgers University. Jason's presentations will include:
"Providing Soil Volume for Tree Establishment and Protection"
"The Top Five Ways to Kill Your Client's Plants and Not Know It"
NYS Department of Environmental Conservation, Region 7 Division of Water
As the Region 7 Stormwater Control Specialist, Ms. Hahn provides guidance to consultants, developers, contractors, municipal planners, code enforcement officers, Soil and Water Conservation Districts, and government agencies on the technical and programmatic implementation of NY SPDES General Permits for Stormwater Discharges from Construction Activity and Municipal Separate Storm Sewer Systems. Ms. Hahn will discuss recent changes to the Stormwater Construction permit requirements, the responsibilities of contractors involved in earth-disturbing activities, and innovative stormwater management practices accepted in New York State, in her presentation:
"Erosion and Sediment Control, Stormwater Management and New York State's Stormwater Construction Permit"
Finger Lakes Conservation Services
Mr. Dickerson was the Northeastern U.S. Plant Materials Specialist for USDA Natural Resources Conservation Service for twenty years. Retiring in 2003, he used his expertise in native plant materials to start Finger Lakes Conservation Services, a conservation consulting business that provides training, design, and installation services including mine land reclamation, streambank and slope soil bioengineering, living snow fence and windbreak installation, native grass conversions, wildlife habitat improvement, and created wetland vegetation. Mr. Dickerson will make two presentations:
"Plant Selection for Erosive/Unstable Sites"
"Native Grasses for New York Landscapes"
SUNY College of Environmental Science & Forestry, Department of Landscape Architecture
A member of the Landscape Architecture faculty at SUNY-ESF since 1988, Professor Shannon has taught a range of courses within the department and has specific expertise in rural community design and planning, as well as site design, construction detailing, and planting design with herbaceous plant materials. As part of the SUNY-ESF campus commitment to "sustainability," Professor Shannon will share the institution's experience of installing and maintaining the largest "green" roof in Central New York in his presentation:
"SUNY-ESF Green Roof Experience"

There will also be our annual rules and regulations update from the New York State DEC Bureau of Pesticides Management and New York State Police regarding Commercial Vehicle transportation and safety issues. There will also be a number of presentations by our trade show partners and sponsors.

And, as always, we're pursuing a variety of continuing education and/or recertification credits including:

NYS DEC Pesticide Applicator
New York State Nursery & Landscape Association CNLP
International Society of Arboriculture Certified Arborist
Landscape Architecture Learning Units (LUs)
Golf Course Superintendents Association of America
STMA—Certified Sports Field Manager
Professional Grounds Management Society
New York State Recreation and Parks Society
Engineering Professional Development Hours (PDHs)