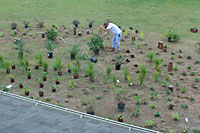 There are several ways in which my landscape designs are implemented.
Some clients simply purchase my design services and after we review the finished product, they proceed with the project on their own. Some will install the design on their own, while others will find a contractor to implement the design for them.
Other clients prefer that I remain involved to varying degrees as the project moves forward at my hourly consulting fee rate.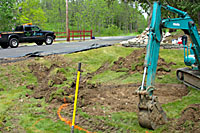 For example, some clients have me outline planting bed(s) with spray paint, set potted plants in the spot where they're to be planted, and work with them side-by-side for an hour or so until they feel comfortable finishing the project on their own, above right.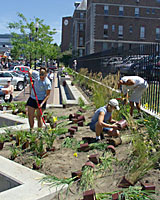 Other clients prefer that I manage the entire project - from helping them choose contractors to install various components of a project (e.g., water features, patios, retaining walls, fences, lighting, lawn seeding, plant installation, etc.), to overseeing their work during installation, to walk-throughs with clients and contractors at the conclusion of a project, above left and at right.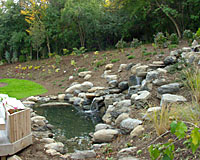 Whatever your needs may be, I look forward to helping you "bring your landscape design to life!"